The CAMERICH Bangladesh showroom is proud to provide an array of high quality modern furniture at an obtainable price. Whether you're looking for a well-crafted sofa for your condo, or dining chairs for your restaurant venture, let us help you with your contemporary furniture needs.
PHILOSOPHY:
The spiritual value of furniture for human beings lies in the soul back to home life, where every touch of the furniture marks an imperceptible implication in the depth of heart and is then translated into mental expressions.
CAMERICH understands this crucial contact between mankind and its surroundings. We provide not merely a product, but rather an attitude to life, and encourage the pursuit of elegant lifestyle. With a profound understanding of customer needs, CAMERICH focuses on innovation and realization, and is committed to accurately delivering the unique HOME IDEA to each and every customer.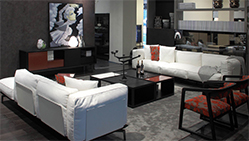 BRAND:
CAMERICH is a high-end global furniture brand. Since it established in 2005, CAMERICH has launched a modern and simplistic style with a rich variety of products. The CAMERICH collection is the best choice for chic elites with unique tastes and always in pursuit of quality lifestyle.
From design to material selection and to every stage of the production, CAMERICH implements strict quality control in great detail. The unique elegance of all CAMERICH furniture comes from the stringent pursuit of craftsmanship.
CAMERICH now provides more than 100 types of products in four major segments including living room, bedroom, study room, and dining room. The powerful international design team launches new products for every season based on chic trends and consumer demands. CAMERICH is a trend-setter and a widely recognized top designer in the Chinese furniture industry. 
VISION:
CAMERICH holds on to its mission: to provide better quality products for global consumers and to improve their home experience.
Now CAMERICH has a marketing network covering nearly 60 countries and regions. It has 100 independent stores and branded shops in U.K., U.S.A., Belgium, Canada, Germany, South Korea, Singapore, Malaysia, Australia and etc. Every day, we at CAMERICH are finding ways to provide exquisite home experience to global consumers through innovative thinking.